This week we continued our coverage of a headline-grabbing L.A. criminal case, and a new Crime Story series. And we presented another client update from Stanford's Three Strikes Project.
Welcome to our summary of the week's events at CrimeStory.com and The Crime Story Podcast. (One quick request: If you like what we are doing on the podcast, please rate, review, follow and share us at Apple Podcasts, Spotify or where ever you get your podcasts.)
On Monday we presented Chasey Ridgley's The People vs Daniel Masterson: The Protective Power of Institutions. Chasey's piece continues Crime Story's examination of the justice-related issues and implications of the the television star's indictment for a series of rapes that allegedly occurred nearly two decades ago.
The story examines how the People vs. Daniel Masterson illuminates the challenges that society faces in its efforts to apply the law fairly and equitably when a powerful institution rallies behind one of its favored members.

On Tuesday and Wednesday, we continued our new Crime Story series excerpting Inside the Robe: A Judge's Candid Tale of Criminal Justice in America, by Judge Katherine Mader (Ret.) which best selling author Michael Connelly called: "a perfect book: engrossing and telling at the same time."

In Part 3 of Inside the Robe, Judge Mader examines her ability to compartmentalize her emotional response to disturbing sets of facts in order to dispassionately preside over the cases that come her way.

In Part 4, she examines situations where – in spite of her best efforts to remain dispassionate – her emotional responses can impact her day to day decisions on a case.
On Friday, we reported that Adam Foss — the former prosecutor, interviewed and profiled by Crime Story in July of this year as an advocate for transforming the role of prosecutors — has been accused of sexually assaulting a woman in 2017.

The allegations were made in a Medium blog post, and sent shockwaves through the community dedicated to improving outcomes for those who are impacted by the criminal legal process.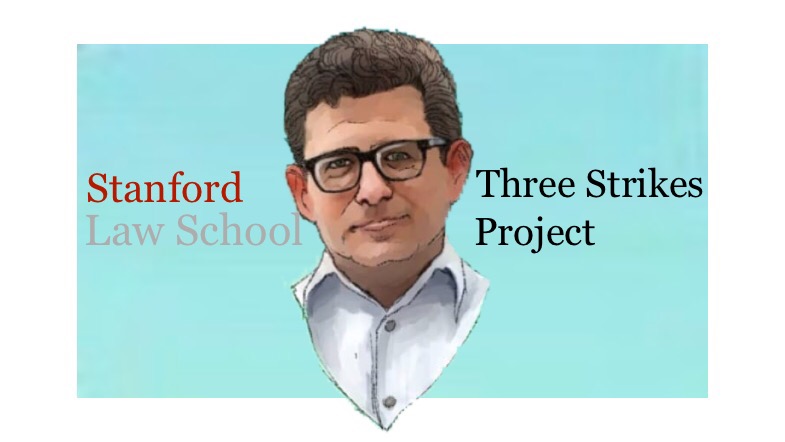 Also on Friday, we published Michael Romano's update on the case of Stanford Three Strikes Project client, Gene McCallum, who was sentenced to life under the California Three Strikes law for breaking into an empty hotel room and stealing two dollars in loose change.

Romano relates that, since his incarceration 15 years ago, McCallum's record of transformation has been so exceptional that he was recommended for early release by all levels of prison authorities. And yet The Los Angeles Superior Court peremptorilyy denied prison officials' request that McCallum be re-sentenced.

The Court of Appeals ruled that trial courts must consider the re-sentencing requests issued by prison authorities more seriously and at least allow McCallum and others like him to present evidence of their rehabilitation.
Below we present Hannah Teich's condensed curation of the week's more interesting stories from Crime Story Daily. (Read Hannah's full essay including links to the mentioned articles.)
On the criminal justice policy front: Pieces from Mother Jones, The Marshall Project, and the New York Times focus on the forthcoming COVID vaccine. Jails and prisons are virus hotspots, and public health experts say prioritizing incarcerated people for vaccination is a "common-sense epidemiological call"; but political backlash could get in the way.
In muckraker/watchdog reporting: The Wall Street Journal surveys the state of the pandemic in US prisons and jails, which, like much of the country, now face an unprecedented surge of new infections. A piece from Government Executive focuses on the federal prison system, where recent COVID spikes have exacerbated a dire staffing shortage. And The Appeal reports from NYC, where dishonest fear mongering about bail reform has driven a sharp rise in the city's jail population – and, with COVID cases on the rise, created a very real public safety crisis.
In complex crime storytelling: A piece from the Washington Post explores how Samuel Little, the most prolific serial killer in US history, got away with nearly 100 murders over more than 30 years. Elle recounts the story of Kimberly Fattorini, a model whose mysterious death, after a night out in Hollywood in 2017, might have been an accidental overdose – or something more sinister. And, in a piece for the Harvard Law Review, Terence Andrus, the Texas death row prisoner who was granted relief earlier this year by the US Supreme Court, reflects on his case and his experiences with the criminal justice system.
And in culture/true crime: "We Are Witnesses," a new video project from The New Yorker, presents a "rare 360-degree portrait of the state of crime and punishment" in America today. Louder Than A Riot, a new podcast from NPR, examines the complex, often fraught relationship between rap music and the criminal justice system. And New York Magazine reviews I'm Your Woman, a new film that brings a character from the margins of the male-centered crime drama – the wife – to its center.
Again, you can read Hannah's full weekly essay and find links to each of the mentioned articles.
And finally, here is your opportunity to catch up on previous Crime Story Newsletters.
Thanks again for reading and listening.
Kary Antholis
Publisher/Editor, Crime Story