This week we presented a new interview conducted by Amanda Knox. Sean Smith continued his series on the media coverage of Covid-19 in jails and prisons, and we presented another episode of our Robert Durst podcast.
Here is our weekly roundup from CrimeStory.com.
On Monday we presented Amanda Knox's interview with James Forman, Jr., Yale Law Professor, former public defender, cofounder of an alternative school for youth who have previously been arrested and author of the book Locking Up Our Own: Crime and Punishment in Black America. It's worth adding that Locking Up Our Own was a major influence on us as we developed crimestory.com.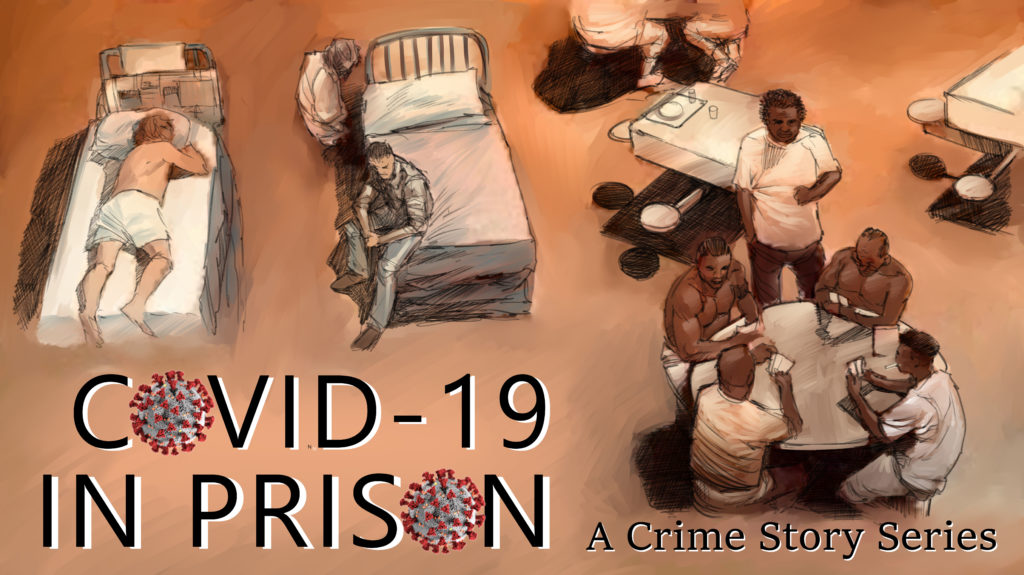 On Tuesday, Sean Smith presented Part 13 of his week by week analysis of the news stories aggregated in Crime Story Daily related to COVID-19 and our carceral system. In this installment, Sean looked at stories from the week of June 7.
Also on Wednesday, we released episode 7 of the podcast series Jury Duty: The Trial of Robert Durst.
In the episode, entitled The Jinx, we are taken back to the aftermath of Durst's acquittal on charges of murdering Morris Black. After serving prison time for dismembering Black's body and jumping bail, Robert Durst decides to record a conversation with the filmmakers of a movie that suggests he committed three murders. That conversation led to the documentary series The Jinx, and – ultimately – to Durst's now-famous bathroom utterances "There it is. You're caught." and "Killed them all, of course."
You can listen now by clicking on your preferred platform below.
Apple Podcasts

Spotify

Castbox – Podcast Player

Acast
As is our custom, we present a summary of Hannah Teich's curated selection of some of the more interesting stories from Crime Story Daily over the past week. (In order to get to the full essay and the story links, please click through this link to Hannah's piece at crimestory.com.)
On the criminal justice policy front: A piece from the New York Times asks, "Can prosecutors be taught to avoid jail sentences?" In a piece for Politico Magazine, five Black female prosecutors offer ideas for how to make their profession "part of the solution." Another piece from the New York Times focuses on Mike Schmidt, Portland's newly-elected progressive prosecutor, whose decision to focus on only the most serious protest crimes has infuriated law enforcement. And NBC News highlights a slate of proposed bills in California that could permanently change the face of law enforcement in the nation's most populous state.
In muckraker/watchdog reporting: Pieces from Slate and The Atlantic focus on the shooting of Jacob Blake, an unarmed Black man who was shot seven times in the back by a white Kenosha, Wisconsin police officer. A piece from the New Republic outlines Kenosha's history of police brutality and of halting attempts at reform. And a Reuters investigation focuses on qualified immunity, revealing wide regional disparities in how and when the doctrine is applied.
In complex crime storytelling: In a piece for Vanity Fair, Ta-Nehisi Coates interviews Breonna Taylor's mother, Tamika Palmer, painting a picture of a "full, loving life taken too soon." A piece from the Washington Post centers on a notoriously dangerous neighborhood of Washington, DC, which has now gone 100 days without a shooting thanks to a gang truce brokered over Zoom. And, in a piece for the Columbia Journalism Review, a beat reporter discusses the work of telling stories about crime, highlighting the ways in which even the most well-intentioned journalists can become "mouthpieces for authority."
And in culture/true crime: A piece from Vanity Fair examines the BLM movement in Minneapolis through the lens of its street art. The Guardian reviews "The Prison Within," a new documentary about a groundbreaking restorative justice program. And the New York Review of Books interviews Jerry Mitchell, the fearless investigative journalist whose work helped solve some of the most notorious racial crimes of the twentieth century.
Again, you can click here to go to Hannah's weekly essay and find links to those articles.
For those of you wondering how you can catch up on previous Crime Story newsletters, just click here and your question shall be answered.
Thanks again for reading and listening.
Kary Antholis
Publisher/Editor, Crime Story