Team Crime Story:This week at crimestory.com, we placed a spotlight on a profound injustice and a prime example of the epidemic of over-sentencing in the United States. We also featured an interview with one of America's leading journalists covering the criminal legal processes in federal and local jurisdictions across the country. And we continued our series on the media coverage of the impact of the COVID-19 virus on America's prisons and jails.
One more word before we dive in. Next week we will make an announcement about a significant new Crime Story project. You can read about it on the site on Wednesday or in the newsletter next weekend.
On Monday, we presented an interview with Sarah Gersten, attorney for Michael Thompson. In 1995, Thompson was the recipient of an unconscionable sentence of 42 to 60 years for possession of three pounds of marijuana. I heard about Michael's story through the musician Michael Franti, and as I learned more about Thompson's situation, I found that it captured the profound injustice of America's over-sentencing addiction. So I asked Amanda Knox and Christopher Robinson to see if we could shed some light on this story.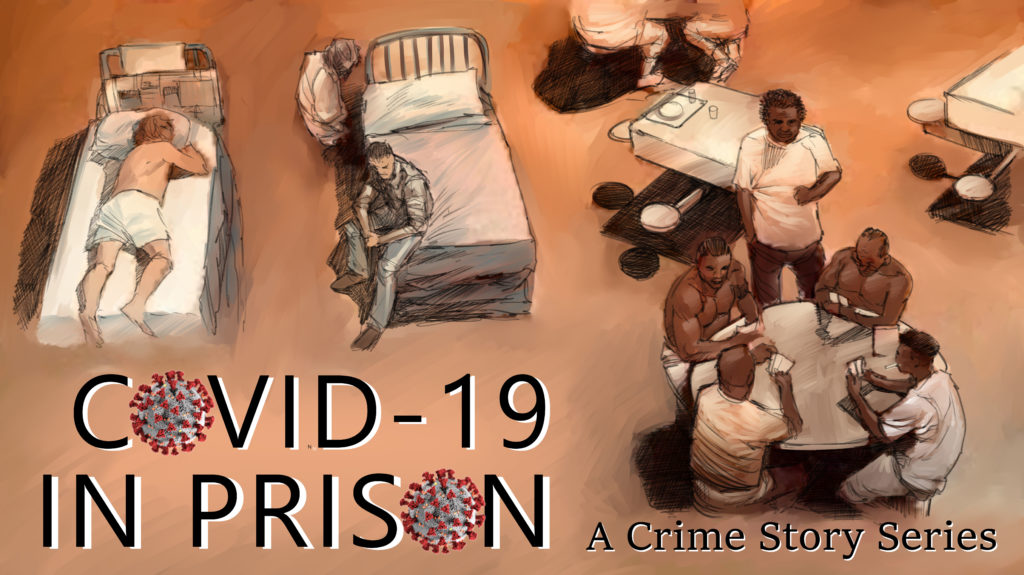 On Tuesday, Sean Smith continued his week by week analysis of the news stories aggregated in Crime Story Daily related to COVID-19 and our carceral system. In this installment, Sean looked at stories from the week of April 26.
On Wednesday, we presented Amanda's interview with Emily Bazelon, New York Times Magazine journalist, Yale lecturer, and author of the book Charged: The New Movement to Transform American Prosecution and End Mass Incarceration. I think it's worth adding that Charged was a major influence on us as we developed crimestory.com.
As is our custom, we present a summary of Hannah Teich's curated selection of some of the more interesting stories from Crime Story Daily over the past week. (In order to get to the full essay and the story links, please click through this link to Hannah's piece at crimestory.com.)
On the criminal justice policy front: Politico reports that more than a month after protests against police brutality and systemic racism in law enforcement erupted nationwide, and with federal policing legislation held up in Congress, reforms at the state level have also stalled. A piece from the WashingtonPost highlights one of the most significant barriers to reform: police union officials and veteran cops who loudly refuse to help or permit changes to the "culture" of policing. A piece from TheGuardian focuses on police union contracts, while a piece from TheAtlantic examines the insular police culture that punishes whistleblowers while protecting bad cops. And, with policing reform stalled in state legislatures and on Capitol Hill, pieces from the Los Angeles Times and the New York Times highlight efforts at the local level to "defund the police."
In muckraker/watchdog reporting: Pieces from the New York Times and The Appeal focus on San Quentin, California's oldest and most widely-known prison and now home to one of its worst coronavirus outbreaks. Amid widespread calls to "defund the police," pieces from USA Today and the Vera Institute of Justice examine just how much policing actually costs. And a New York Times investigation finds that George Floyd and Eric Garner, whose deaths in police custody in Minneapolis and New York have sparked national outrage over the use of deadly police restraints, are not alone: over the past decade, at least 70 people have died in law enforcement custody after saying the same words: "I can't breathe."
In complex crime storytelling: A piece from Politico Magazine highlights the San Quentin News and the work of incarcerated journalists. A piece from The Atlantic focuses on the FBI's Art Theft Program, a team of federal agents trained in art history and cultural anthropology who work to recover and repatriate stolen art. And a piece from The New Yorker focuses on the case of Billy Joe Wardlow, who is scheduled for execution in Texas next week for a crime he committed at the age of 18.
And in culture/true crime: New York Magazine reviews I'll Be Gone in the Dark, a new HBO docu-series adapted from the 2018 book of the same name. And the New York Times profiles Liz Garbus, director-producer of I'll Be Gone.
Again, you can click here to go to Hannah's weekly essay and find links to those articles.
For those of you wondering how you can catch up on previous Crime Story newsletters, just click here and your question shall be answered.
Thanks again for reading and listening.
Kary Antholis
Publisher/Editor, Crime Story